Whether you are looking to add a logo to your boat or a simple decal or may be wanting a fully or partial boat wrap. We are one of the best boat wraps in Upland. We are known for the best quality and services. We use only the best quality material and products picked up from top manufacturers. There are a few below listed reasons that why an A-frame sidewalk sign makes an effective advertising tool.
Wrapping a vehicle offer lots of benefits. It protects the original paintwork and add the photo-quality graphics, so if you spend more time in the water as compared to on land, you might can reasonably ask for wrapping a boat.
The absolute short answer is yes you can – and it has been done plenty of times before from us.
One should know more details about the basic common questions related to boat vinyl wrap before moving forward.
Vinyl boat wraps are more economical and can be faster than having a vessel's hull and topsides repainted. Also, it provides a high-quality smooth surface with a vivid design pattern, colour, or printed design – and the best part is, they can be removed whenever you no longer want that look.
Like any other vehicle wraps, we can add graphics and texts to create the design & look you want. You will find various options in materials which are best suited to different vinyl vehicle wraps, so we advise you to contact us, as we will always make sure to use the correct materials for your vinyl boat wraps, considering the exposure to water and potentially to salt for ocean-going vessels.
Talking about the costing, it depends on the size of the vessel as the paint job increases for the bigger size boat.
Again, it's obvious, talking about the time required, bigger boats take longer to wrap. But with the help of our expert team, we always make sure to deliver the best on time with quality.
Boat wrap maintenance is as similar as car wrap maintenance. You are required to avoid prolonged exposure to harmful substances and make sure that if you have your boat professionally cleaned, they should use a wax suitable for vinyl.
You need to know the benefits for boat wrapping.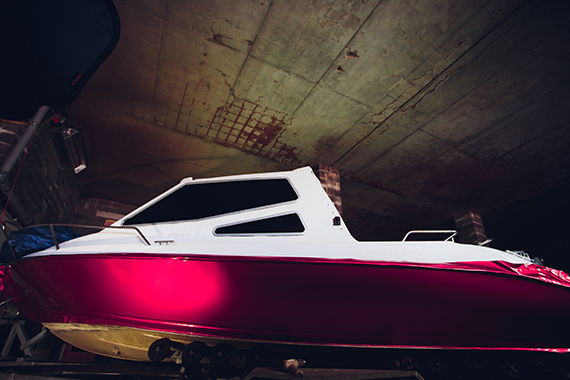 Customized look of your boat will help to promote & market. Also, will add individuality with customer graphics to your boat. Will help to set yourself apart from rest of the boats in the water.
To make it happen, we carry fine selection of high rated quality boat wraps material picked up from the top brands.