An A-frame sidewalk signs are known to be the perfect tool if you are looking for an effective advertising solution for your business which will give you positive response. It is also known as a sandwich board. An A-frame sign is commonly found and spotted on sidewalks, displaying day specials or brand's promotional offers and they look like the letter 'A', which gives the user/ owner multiple panels for their messages to display. They are so much effective for directing and guiding people to hard-to-find locations. They also give perfect results for grabbing attention of an impulse buyers.
There are a few below listed reasons that why an A-frame sidewalk sign makes an effective advertising tool.
An A-Frame sign is a wonderful and great way to catch a response and attract attention which will help to increase footfalls. They tend to give brief information related to your services or product at the point of business. They are often used for special and promotional announcements. If it is placed strategically, this signage tool is impossible to grab attention. It can be placed on sidewalks, and at the ground level to grab the attention who so ever passes by. So well designed A-Frame will definitely leave an impression and draw in customer's mind.
Flexibility in Use and Design
An A-frame sign has an option and can be designed and printed single-sided, double-sided or with changeable panels. By opting for multiple panels will gives your business exposure and gives you an option to display two or more messages. These frames can be customized and designed with the help of creative graphic designs or posters to create an enticing impression. Whether you like to display items on your menu for the day or want to let customers aware about special deals, various varieties of A-frame sign offer freedom to display messages as your requirement.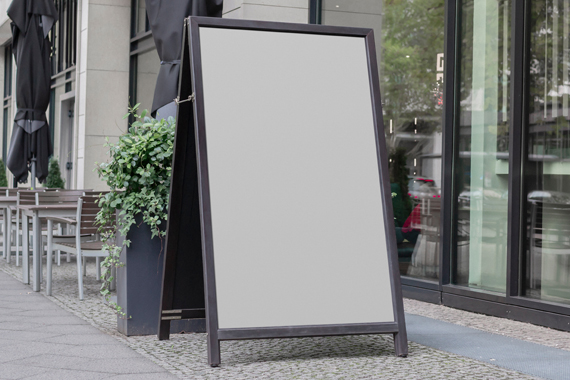 An a frames signs are made of durable, and materials used are waterproof which does stand in different weather conditions. They are very easy to set up and get be dismantle. Most of this signage folds and are stored easily when not in use. Usually, an A-frame sidewalk sign is lightweight and comes with a handle to carry, which makes them easier to shift or move the sign from one place to another. This will give you a benefit of using it indoors, as well as outdoors. Its Low maintenance and portability make them count an effective tool for advertising your business.
These days, you will find large variety of signage to choose as per your requirement, including a digital signage. A Frame signs are popular, but also most of them are pricey. These signs are available in the market in a wide variety and range of materials, sizes, and types that makes them an affordable option at some extend. Graphic design on an A-frame sign is differently an inexpensive source to attract attention of the customers. If you have a business that requires continuous or frequent change of information, then this type of signage will certainly give you a great result on investment. After doing an initial investment, it will continue to advertise for your business every time you display it.
Benefits of Custom a frame Signs
A frames signs near me are eye-catching and affordable that may be used to fetch traffic towards your business. These signs are appropriate and perfect way at encouraging impulsive purchases. With the help of custom a frame signs, one can add and experience a more welcoming customers and will make sure to show you are "reaching out" to every potential client. Many Customers rely on signs for receiving information about new products from the stores. An A- Frame signs really work if implemented properly and strategically. Are you still questioning if a-frame signs would work for your business? A-frame sidewalk signs and sandwich boards can result your business even more successful if it is implemented properly and strategically. Just give a thought about how many people are constantly walking up and down the sidewalk, pass in front of your business, to who you are or what you're selling. A metal A-frame sign will always catch an eye of a potential customer's because these signs will reflect directly in their line of sight. At Custom Graphics, we look for creative solutions to all your signage needs in Upland, CA.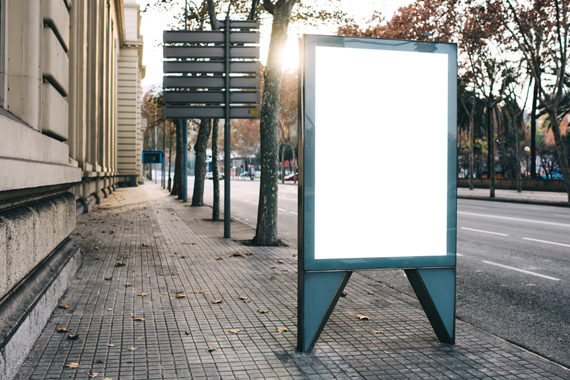 There are few commercial a-frame sign designs to help you with your signage needs:
All above designs & benefits of an a frame sidewalk sign, will give your business to gain a competitive edge. With the ample wide variety of design options available you can select the best that suits your need and budget. Reach Custom Graphics for an impressive design of A-frame sign that will undoubtedly leave catchy picture of your business in the minds of customers.